Ford EcoSport // Annie Mac // Event Marketing
Working closely with Live Nation the world's leading live entertainment company to help them achieve their digital objectives in a collaboration between Ford EcoSport and Annie Mac to market an exclusive event of Super Star DJ's.
Objectives
Ford Eco Sport were looking to engage their target audience and highlight the Ford EcoSport brand in a way that engaged people and grabbed their attention.
Ford selected Live Nation to help them reach their audience and Live Nation's event marketing team worked with Annie Mac to create a VIP event that would reach far and wide with their target audience.

We created digital banners that drove traffic to our bespoke website. The site focal point was to stimulate awareness of Black XS's new fragrance 'Be A Legend', the user was able to experience the campaign at its full potential. This idea of 'A Legendary Summer with Black XS' was encouraged by their association with the New Look Wireless and Reading Festival.
The site gave a short overview on both the New Look Wireless and Reading Festivals again highlighting the campaigns relationship with the rock 'n roll.
A series of advertising banners were created and displayed across Live Nations network driving users to the website which featured a Ford EcoSport in the background presenting a "Super Star DJ's Wrap Party" with Annie Mac and Pete Tong before changing through various party scenes.
Users were invited to view various Annie Mac videos, find out more on the Ford EcoSport and the VIP event itself before being invited to enter for a chance to win tickets to VIP night.
After the event the entry form was changed to a gallery of the night, demonstrating the success of the event.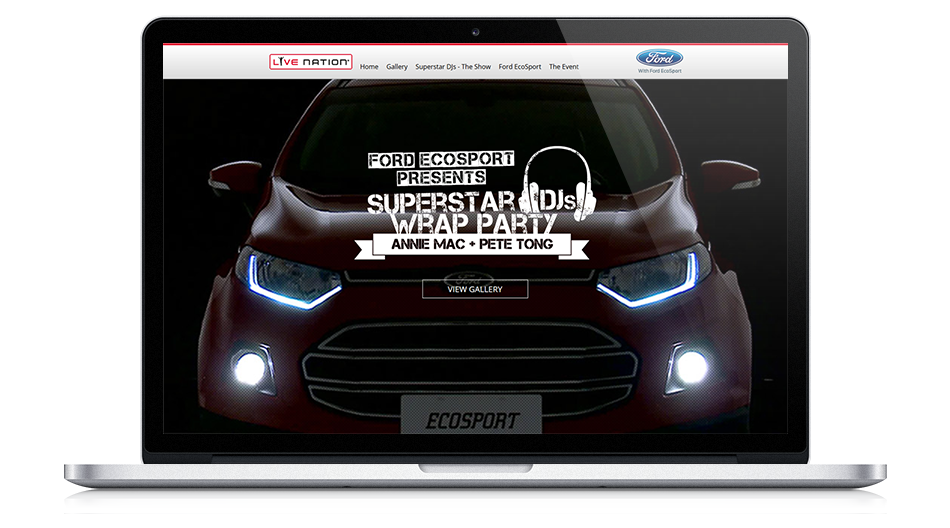 Results
From thousands of entrants, 300 lucky winners were randomly selected to attend the event in Shoreditch where the Ford EcoSports where brought into the venue on display.
It was a VIP only night of lights, special effects and Super Star DJs fuelled by incredible music, an event that was in a totally different gear and placed Ford EcoSport firmly within its target audiences brand awareness achieving all objectives. Effective event marketing combined with engaging digital content and drivers.